I stumble a bit while trying to share my Windows Vista internet connection with a Windows XP machine. I did this steps:
set the ICS (Internet Connection Sharing) on the Windows Vista machine and
set the Windows XP machine to connect to the net through the Windows Vista machine.
Everything was fine and the Internet Gateway icon showed up on Windows XP network connection. Except that the Windows XP machine still can't connect to the net. What to do?

Troubleshooting
The solution turns out to be simple. We only need to do this steps on Windows Vista:
1) Disable the internet connection sharing, if it's already enabled. Don't forget to enable the automatic IP address assignment.

2) Open Control Panel / Network and Internet / Network and Sharing Center.
Click Manage network connections on the left taskbar.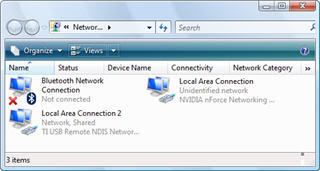 Select both LAN connection and internet connection. Right click and select Bridge Connections.
Wait a bit…
…until the bridge is enabled.
3) Right click on the Network Bridge icon and select Properties. Click Continue on the UAC dialog. On the Adapters box, uncheck the internet connection. Click OK.
4) Back on Network Connections window, right click on the internet connection icon, and select Properties. Click Continue on the UAC dialog. Select the Sharing tab and check both checkboxes. Click OK.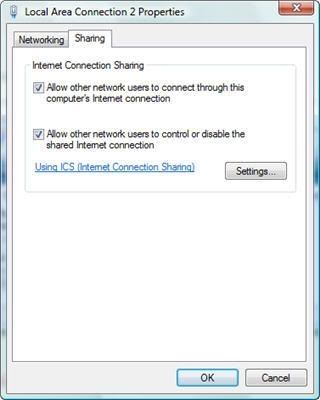 The end result should be like this:
It's done. Wait a minute and both Windows Vista and Windows XP machines should be able to connect to the net. If this is not the case, just restart both machines.
Can Ubuntu use Windows Vista ICS?
In my case, no problem. My Ubuntu 7.04 installation can connect to the net through Windows Vista ICS. I don't even need to set up anything on the Ubuntu machine.